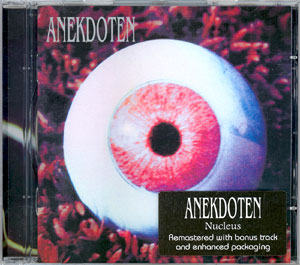 Nucleus
Nucleus remastered with bonus track and enhanced packaging
(Released February 2004)
Nucleus
Harvest
Book Of Hours
Raft
Rubankh
Here
This Far From The Sky
In Freedom
Bonus Track:
Luna Surface (recorded during the Nucleus sessions)

First edition released on CD in December 1995, remastered version in 2004
Sweden: Virtalevy, Virta 002
Japan: Arcangelo, ARC-1002. A very limited edition was released in a vinyl coating gatefold sleeve when the remastered version came out in 2004.
France: Musea, FGBG 4165.AR
Released on gatefold LP in October 1996, including poster,
Gates Of Dawn, GOD 003, USA.
Re-released on LP in December 2014, gatefold cover, including poster,
Virta, Virta LP002, Sweden, 500 numbered copies. The 50 first copies in red/black vinyl.
Released on picture disc LP in May 1997
Record Heaven, RHPD 9, Sweden
Released on cassette in October 1996
Prog Rock Music, PRM 036, Poland
Recorded at Studio Largen and in the rehearsal room between July and November 1995. Produced by Tommy Andersson and Anekdoten.